Kingston upon Thames

ABOUT US
We are part of an international network of neighbourhood initiatives that promote repair as an alternative to throwing things away. Transition Town Kingston organises a Repair Café on the first Saturday morning of every month, from 10.30am to 1.30pm, starting in February 2023, in Kingston Library's new community room.
Visitors can bring their broken items to fix on the spot with the help of voluntary repairers - please read the
House Rules
for volunteers and visitors and our
Guidance for Visitors
before coming along.
Volunteering for Repair Cafe: please read the House Rules, the Repair Cafe Manual, guidelines for working safely and other useful information on
our page for volunteers
; if you would then be happy to help with fixing things,
please contact us
,
outlining in the first instance what kind of repairs you could do and your availability, and letting us have your contact details for further updates and information.
With thanks to

Kingston Library

for the use of its lovely community space, and to

John Lewis Kingston

for the seed-funding that enabled us to start this project.
NEWS

April 2023
Data from our first 3 repair sessions below, showing that most visitors had their broken items repaired or got useful advice on repairing them. From our contacts with other repair cafes, this seems to be about average.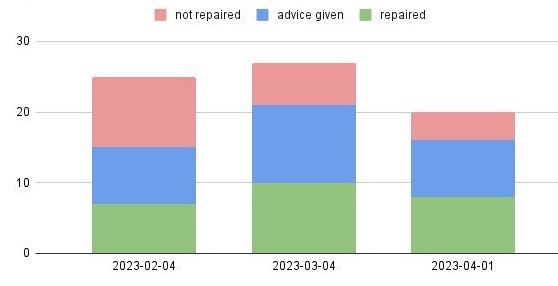 Message from a satisfied client after our April 1st Repair Cafe:
March news

Our March Repair Cafe went well too. The teddies were back, the electricals and electronics fixers were kept busy, and a satisfied customer wrote: "I'd like to say a huge "thank you" to the organisers and volunteers at the repair cafe today! It's so kind of them to give their time and share their skills with others. The textile items I brought in were very well-used, much loved and in need of rescuing; they now have a new lease of life!" We also had a nice mention from the Leader of Kingston Council in the Surrey Comet, writing about Kingston's greener future and our "innovative and exciting green initiative".

February news
See the report of our very successful start on February 4th, and also Kingston Council's news item about our Repair Cafe and the item in local MP Sarah Olney's February newsletter. We also had coverage and a photo in the Kingston University newspaper and a soundbite on BBC Radio Surrey & Sussex. We are now looking forward to our next Repair Cafe on the morning of March 4th.



January 2023 updates
Project group meetings continue, including a "site visit" to Kingston Library to work out how to arrange the furniture and Repair Cafe storage, along with some training in how to take the on-line donations towards our costs that we hope will come in. Interest is growing, volunteer fixers are offering their many skills - and we are beginning to feel almost ready to go - although unfortunately our second attempt at getting funding, from Veolia, failed (ideas of other funding bodies welcome)!
On our first morning, Saturday 4th February, we will take bookings for repair slots after 11.00am, to give us an hour with volunteers for briefings and the opportunity to get to know each other.

December updates
23/12/23
The Repair Cafe project group continues to meet weekly, even during this holiday period, and is gradually building up a useful list of skilled volunteers who we will be contacting soon with the code of conduct/sign up sheet that we are working on.
16/12/23
We have started, in a small way, doing essential shopping for the Repair Cafe and gradually moving useful stuff into Kingston Library community room. A big thank you to the Library staff for their helpfulness and positivity! The Repair Cafe Kingston project group is meeting weekly to decide on and implement all the practical things that need doing before February - and we are seeking volunteers to help keep useful stuff out of the waste system and make our Repair Cafe happen - see above
Sadly, TTK didn't get the award from Transition Together that we had applied for, but we still aim to start on the first Saturday of February, and we will continue to seek funding and donations to enable us to grow from small beginnings.
November update
We have had very positive conversations with Kingston librarians, who are as keen to have users such as our Repair Cafe in the new community room in the central Library as we are to be there! We intend to start small-ish (see October update below) and to build up our repair offer as we attract more volunteer fixers and funding - we may even offer a few craft/visible repair sessions (see the lovely examples from the summer 2022 "Eternally Yours" exhibition at Somerset House). There will be hot drinks and cakes too!
We hope to open on the first Saturday morning in February 2023 - so watch this space.
Are you good at fixing things? Would you like to share your skills and experience with the local community, helping to keep items that still have some useful life out of the waste stream? Top asks are for textile/clothes repairs, bikes, small electrical appliances ... but if we can offer other kinds of repair, maybe clocks, china or garden tools, perhaps occasionally, we think there will be interest. We hope our Saturday morning sessions will be sociable too, with hot drinks and cakes, and that volunteers and visitors will enjoy exploring the main library too. Please contact us if you can help and/or would like to know more.
October - November 2022

Transition Town Kingston is currently busy planning and fund-raising for a regular Repair Café in Kingston. We have done lots of research, joined the international Repair Café network, recruited some skilled volunteers, and we have some start-up funds, thanks to a donation from John Lewis Kingston. Once we have enough funding to permit longevity and growth and have secured a suitable venue (central and accessible, with space for safe storage and for several different kinds of repair to go on at the same time), we will launch this very useful service, which will help to keep usable stuff out of the waste system and, with the Repair Cafe ethos of "watch and learn", increase the skills and resilience of participants. We also intend that our monthly repair cafes will be sociable events, with refreshments, enjoyable for our volunteers as well as for residents who bring along possessions needing fixing.
Top repair asks in our current survey (you can join in here) are textile repairs, which TTK's earlier Stitch in Time project has some experience of (as in the photos below), and bicycles, which may already be catered for by other groups, along with demand for a range of other repairs, including electrical appliances. These findings confirm what we have learnt from other repair workshops and cafes. We plan to start modestly with textile and lap-top software fixes and, perhaps, other small repairs, and then grow over several months to offer other kinds of repair. We recommend Twickenham Repair Café (pictured below) as a well organised, successful and very helpful nearby Repair Cafe which we visited recently.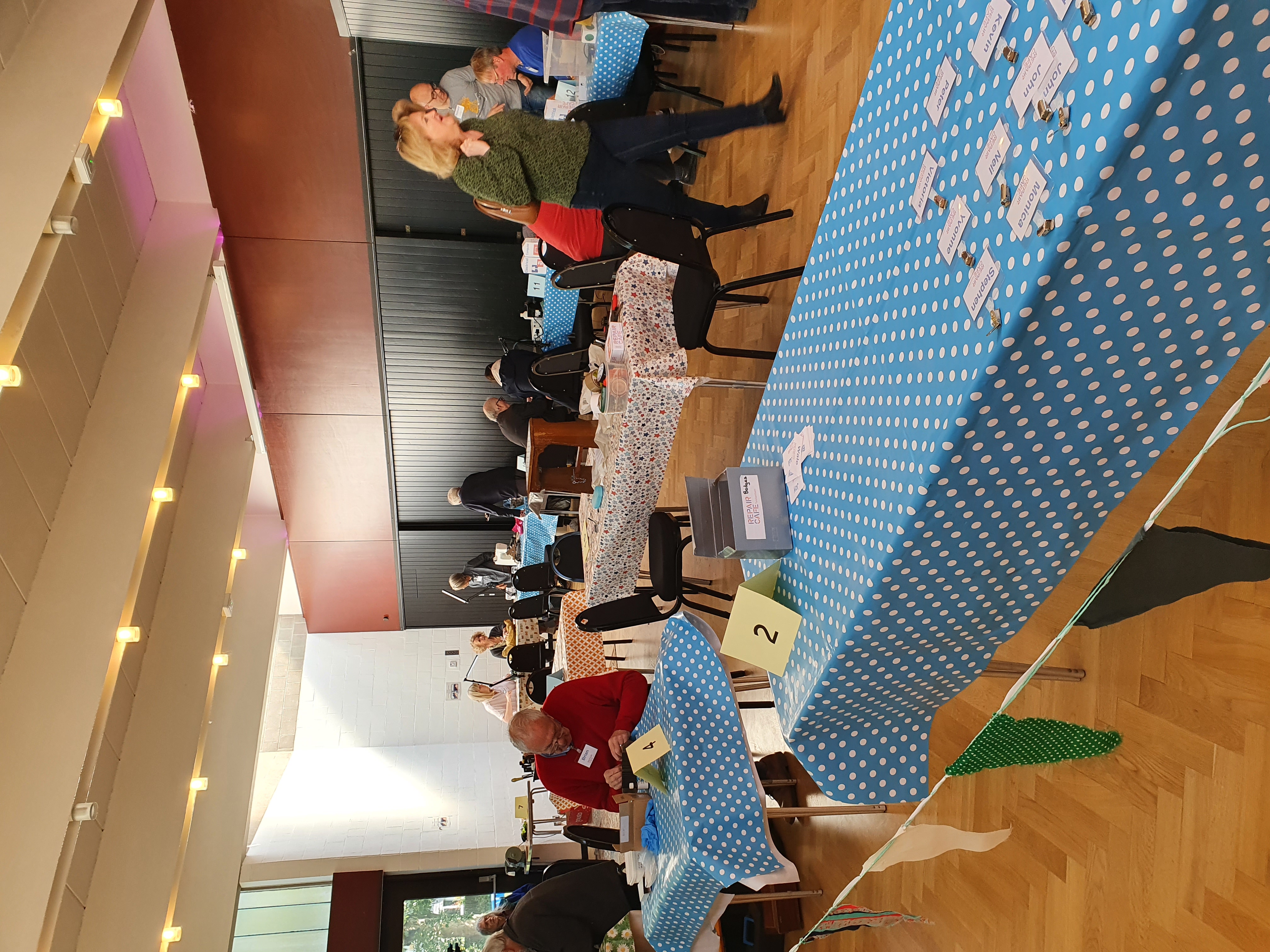 We thank Kingston Council's Climate Action team and Waste Reduction Officer for their support, and John Lewis Kingston who have made a generous contribution towards our Repair Café start-up fund.
The photos below show TTK's Stitch in Time out and about at a local fair (below left) and sharing skills in our original venue, Kingston Environment Centre, when it was on Fairfied East in central Kingston (below right).