Kingston upon Thames

NEWS
With thanks to

Kingston Library

for the use of its lovely community space, to

John Lewis Kingston

for the seed-funding that enabled us to start this pr
December
Our skilful volunteers did some excellent and worthwhile repairs at the December Repair Café: our stitchers made a coat as good as new by replacing its worn fastenings with new ones that the owner had sensibly brought, and made some school backpacks usable once more, while on our miscellaneous table Ray moulded a replacement foot for a wooden toy, and other versatile fixers mended a wooden lamp-stand (both pictured below).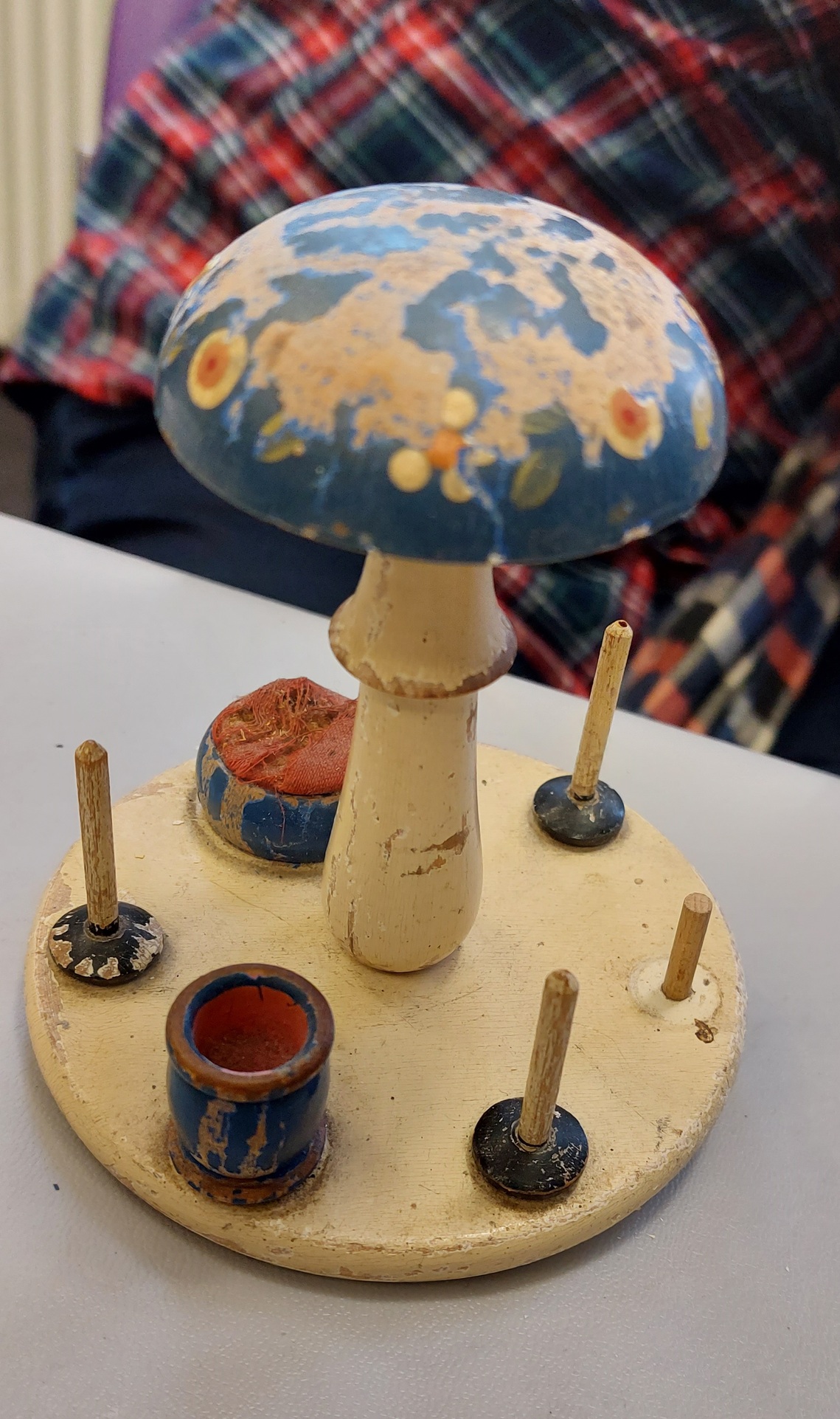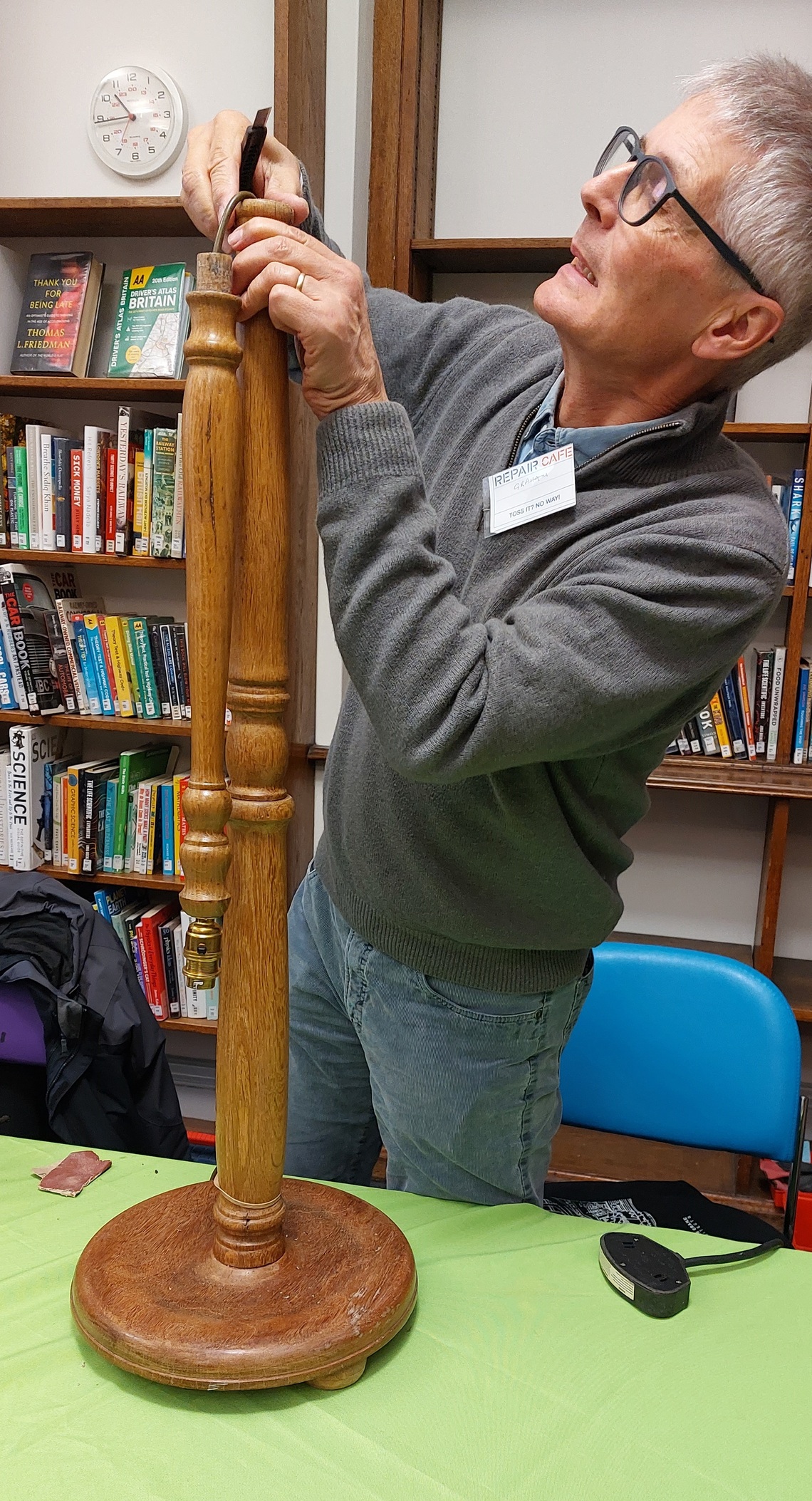 And there were the usual electrical appliances to repair: a vacuum cleaner, an electric kettle... and grateful customers:
"Please would you thank Karim, Steve and Graham for their "24 hours in A&E" efforts on my speaker jack plug this morning (I think I've got the names right). I'm pleased to say it's now working perfectly. It was also good to chat to them – surely an important part of the whole enterprise." Indeed!
November

Our Busy November session completed the most repairs we've done so far - well done, volunteer fixers!


October
Our October Repair Cafe seemed even busier than usual, with lots of visitors, including the CEO of Kingston Council, two visitors from other local repair cafes coming along to chat and share experiences, an MA student researching us, and people with a variety of items to fix. We consumed even more tea and biscuits than usual, while our skilful and versatile volunteers repaired and/or gave advice on a vacuum cleaner, an electric kettle, a laptop, a blanket, a radio, a backpack, a desk lamp, a blender, a heat-sealer, and a jacket amongst other things, and also showed visitors what they were doing and how to fix things themselves, a useful bit of skill-sharing.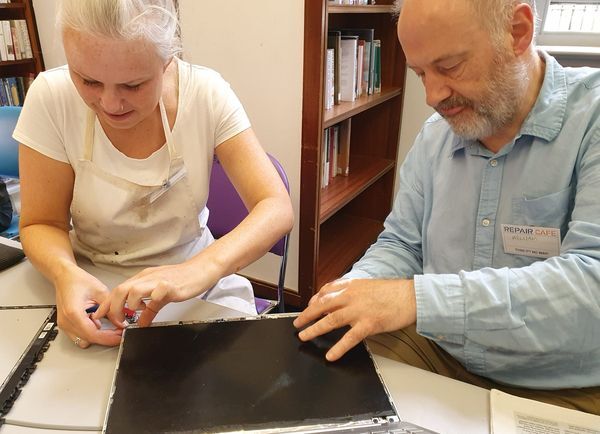 Their efforts, even when items proved too hard to repair, were appreciated, as this email afterwards showed: "I came to the repair cafe yesterday to see if I could get my ice machine fixed. The guys were really helpful but unfortunately it didn't work. I really appreciate you trying."
The Textile Repair and Upcycling event a few days earlier was useful too, with three volunteer stitchers helping four visitors with a variety of alterations and repairs, giving new life to old clothes. Repair Café also signed The UK Repair and Reuse Declaration which was launched on International Repair Day in October.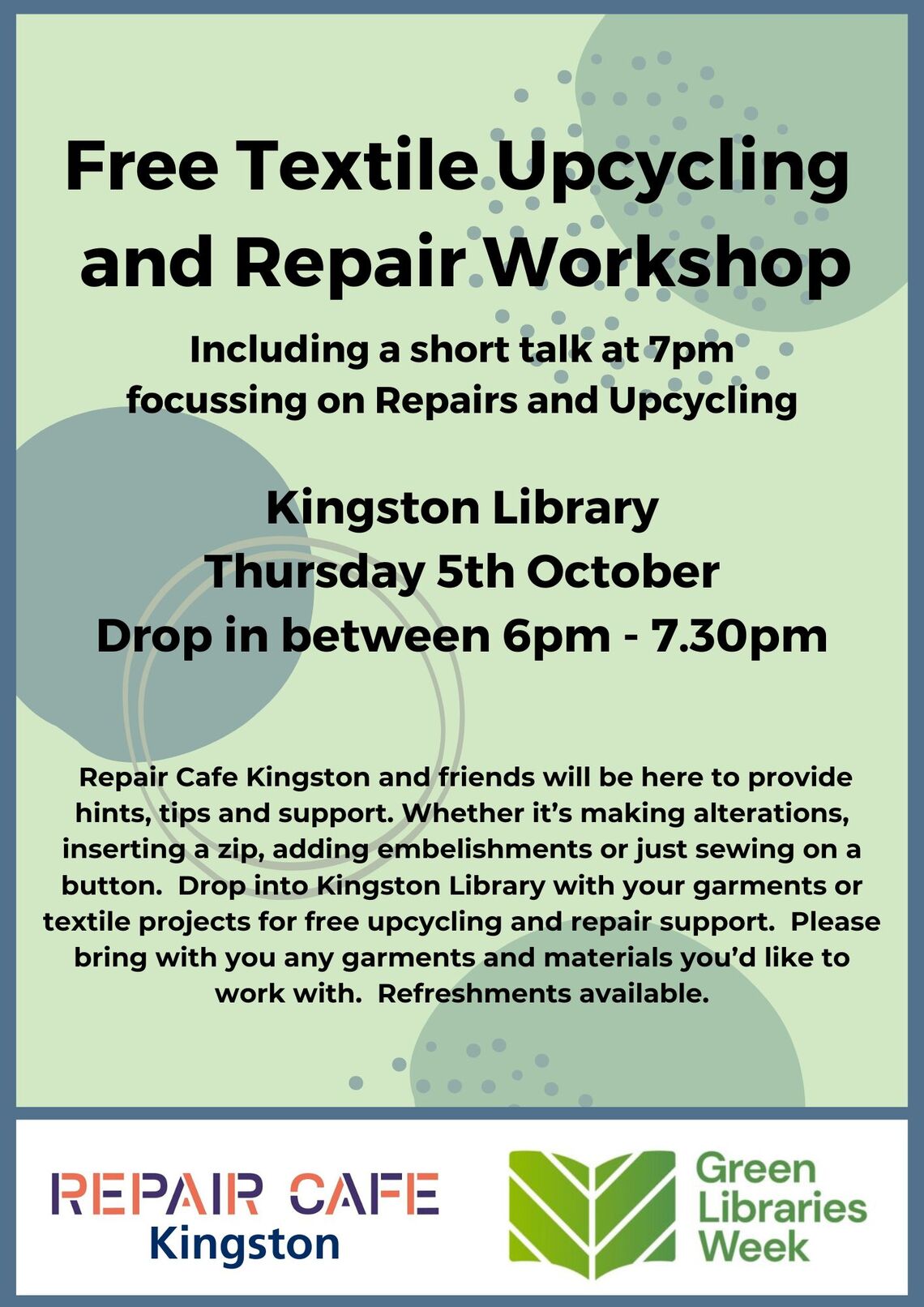 September 2023
One of our sweetest repair stories and fixes came to the September Repair Cafe - a fortieth wedding anniversary present to parents needing to be restored to life for another significant anniversary.

Volunteer Alan below, enabling the puppies to sing again.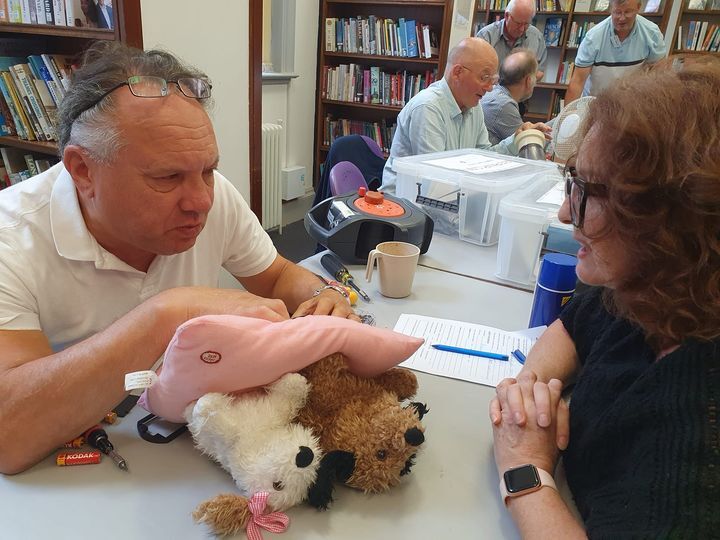 You can see a short video of the revived pups singing "I've got you babe" at https://www.facebook.com/groups/ttkingston.
Some happy visitors' comments:
"Took some things into the repair cafe in Kingston. Including this *incredible* Koala Christmas decoration, which we rescued from a charity shop for 20p. He's now had a makeover with an added pompom! Thank you to @ttkingston"
"Thank you for the happy visit today. My Dualit toaster was carefully worked on even though not successfully. However, I'm very much impressed by your happy team and a good workplace in the library."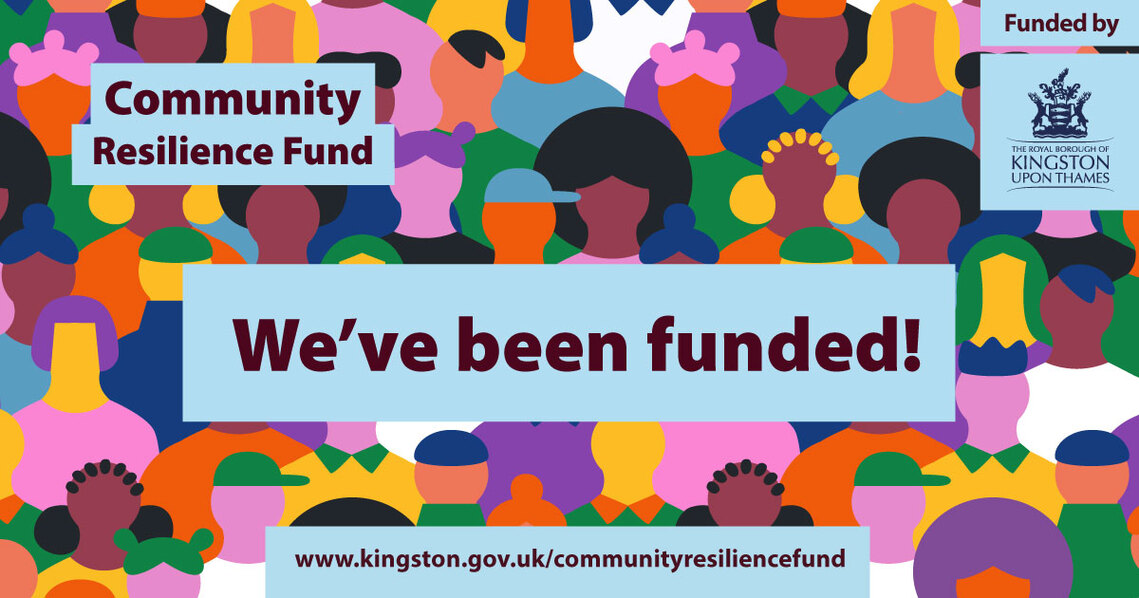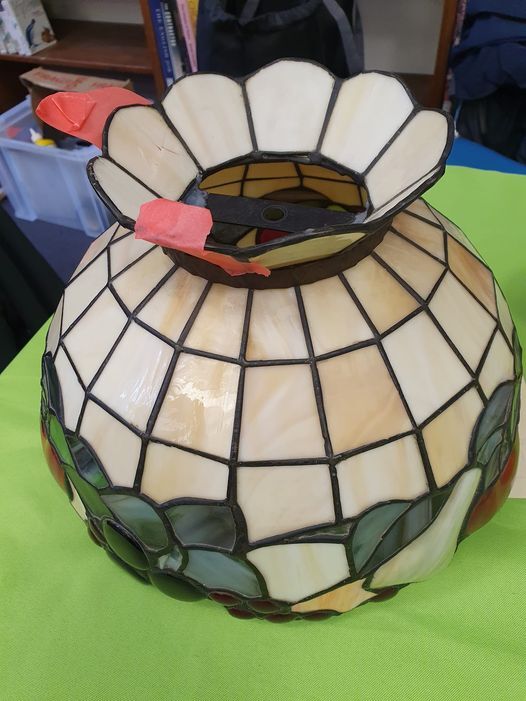 August 2023
One of our prettiest repair jobs so far, on the right, completed at our August Repair Cafe.
July 2023
Good to see TTK and our monthly Repair Café getting positive mentions in the Council's Climate Action Plan 2023 updates - we are doing our bit!
June 2023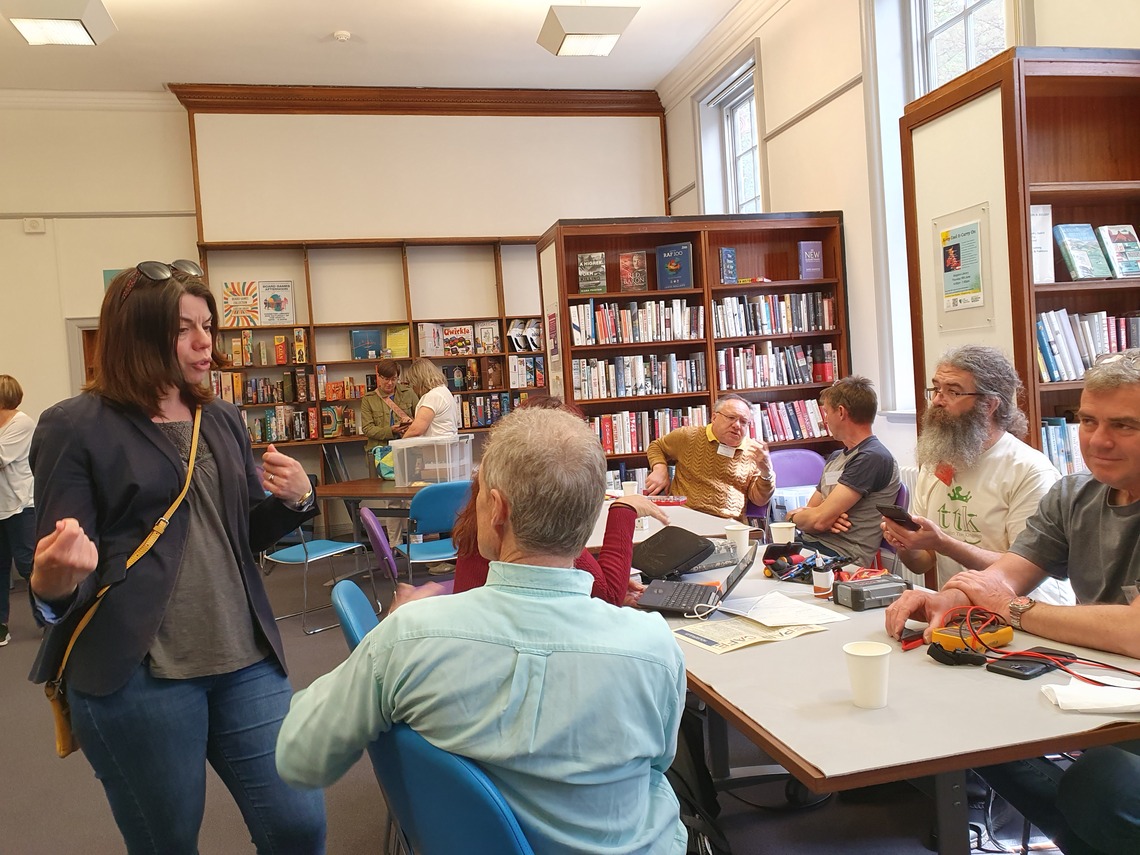 Comment on TTK's Repair Cafe last Saturday from a satisfied visitor: "First time frequenting the Kingston Repair Cafe today. Great experience. Lovely people and my 20+ year old coffee grinder saved from landfill! Amazing! Thanks to all the volunteers!"

We also had a visit from local MP Sarah Olney, who dropped in to see how we were doing and to chat with volunteers, pictured here.
May
Despite the competing attraction of the Coronation, the Library and our Repair Cafe opened as usual, and our volunteers had the usual variety of items to repair. RCK organisers completed an application to the Council's Community Resilience Fund - fingers crossed!
April 2023
Data from our first 3 repair sessions below, showing that most visitors had their broken items repaired or got useful advice on repairing them. From our contacts with other repair cafes, this seems to be about average.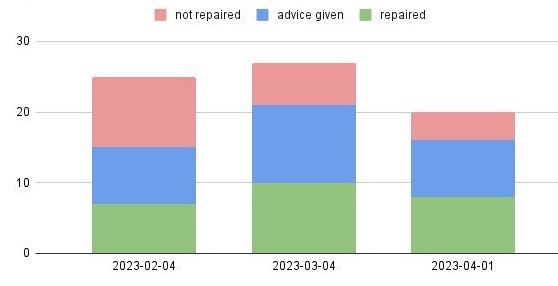 Message from a satisfied client after our April 1st Repair Cafe: