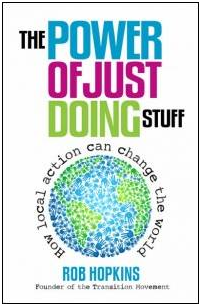 "Community involvement is absolutely crucial to the success of Transition in your community. It's great if you can engage them in creative and inspiring ways as this breeds excitement and most importantly is fun. Some of the easiest ways to do this is to put on enjoyable events, run inspiring projects that are easy to get involved and simply, just speaking to people in your community about Transition.
Involving and engaging your community enables you to: Raise awareness about Transition; Help people to understand the issues that Transition addresses; Show people how they can make a difference in their community; Inspire new people to get involved"... (Transition Network on Community Involvement)
"... If we wait for the governments, it'll be too little, too late. If we act as individuals, it'll be too little. But if we act as communities, it might just be enough, just in time." Rob Hopkins, Transition movement founder, in What is a Transition Initiative?
TTK initiatives and projects
All our initiatives depend on people to make them happen and keep them going. If you browse TTK initiatives and projects via the menu above we hope you will find something that interests you and that you'd like to participate in. Some groups and projects are more active at the moment than others, and all welcome new participants and volunteers.
TTK also welcomes new projects and events, and if you would like to start or run an activity that fits in with our ethos, we can help with finding a venue, publicity, PL insurance cover, and covering your costs. In return, we ask that you promote your activity as a TTK one, using our logo, and try to break even by taking donations from particpants and avoiding hiring a hire a huge expensive venue for an event likely to attract just a few people. Contact us via the website or come along to one of our monthly core group meetings or Green Drinks (see Events for details) to pitch your ideas.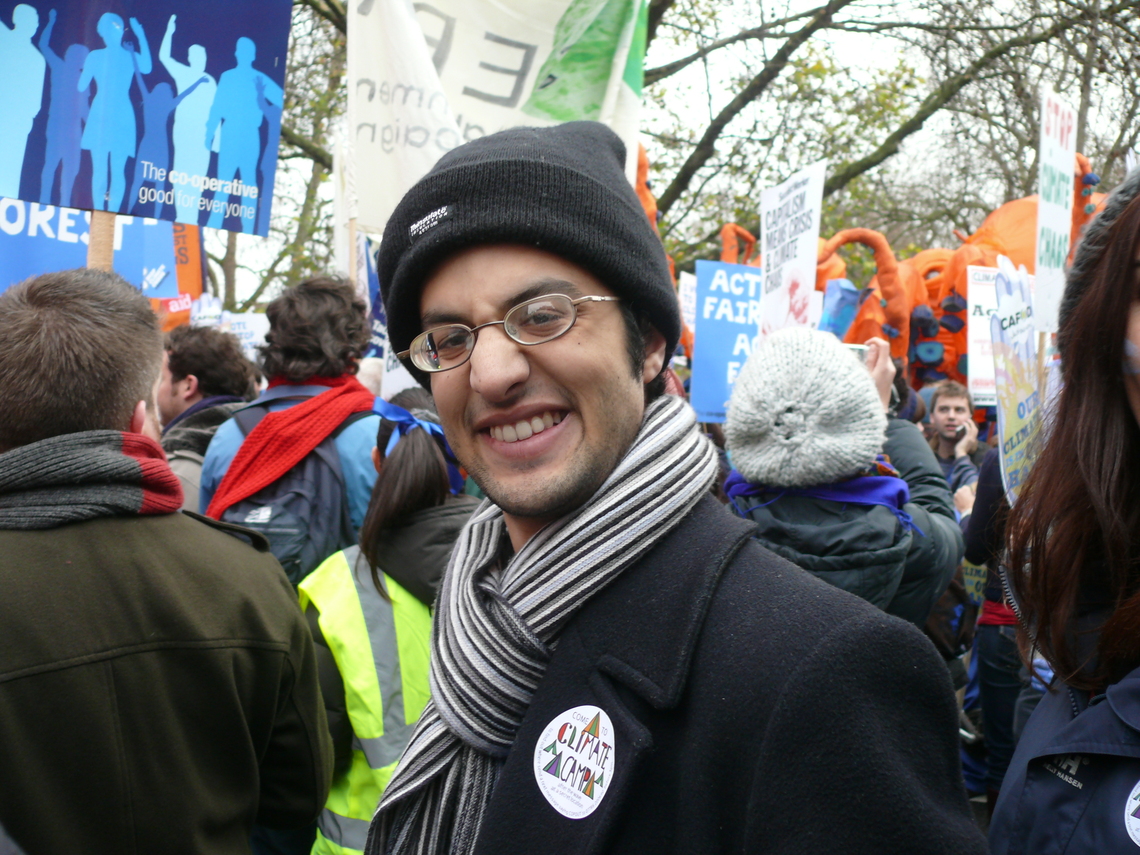 TTK is a member of The Climate Coalition - you can find out more about TTC and its campaigns and sign up for their newsletter here. We have been on the occasional Climate March together - on the left in 2009. - and we do a bit of campaigning on climate-related issues locally
See also Building Communities, why and how.
TTK outreach events, workshops, discussions, occasional local press coverage, some campaigns...
We work hard to engage with the local community via a range of Events and Initiatives - browse them via the menu on the left. Some of our activities particularly intended to raise awareness and encourage action and participation are listed below. Some of our local media coverage over the years can be seen here.
If you know of a notice board that could display our A5 flier, you can download and print it from here.
Contact us via the form on our Home page if you'd like to attend or help at any of our events.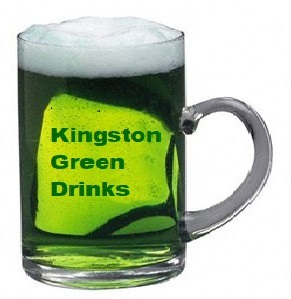 Kingston Green Drinks: a monthly free social event for anyone interested or working locally in environmental issues, hosted by Transition Town Kingston. We welcome everyone to come along to have a drink, make new connections, and share news, insights, activities, events and strategies with like-minded people - see Events for details.
Past TTK engagement and awareness-raising initiatives
As well as putting on countless open events, film shows, workshops and meetings (See About us for the full list), TTK also takes opportunities to take the message out and about around Kingston, sometimes even getting a bit of local media coverage.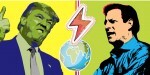 More recent events can be seen if you scroll backwards on our Events page.
August 2018: "Trump v Gore" - TTK's Alison Whybrow invited Shar Olivier, sustainability activist and campaigner, to Kingston Quaker Centre to share her recent experience of working with Al Gore at his climate reality coalition training camp in California. A range of people came along to discuss Shar's three questions: Do we need to change? Can we change? Will we change? Gore's organisation provides powerful and compelling, though stark, answers. This diverse group, in the limited time we had, made new connections, had new conversations, came up with some answers, and, we hope, left with a new awareness and new possibilities. Read Alison's account of the evening here.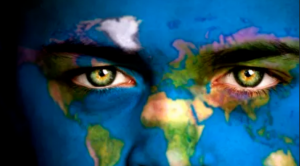 September 2018, "Awakening the Dreamer, Changing the Dream" was a unique interactive workshop with participant discussion intertwined with a tapestry of video interviews and information about the state of the world, our earth, our human family and how we got here. Facilitated by Alison, who'd been working with the Pachamama Alliance for two years, and supported by the team at TTK, this symposium in September 2018 invited an embodied re-connection with all that matters most.
September 2018, TTK in the Green Zone at Kingston Carnival, at the end of a trail of green footprints with many of the other local green groups.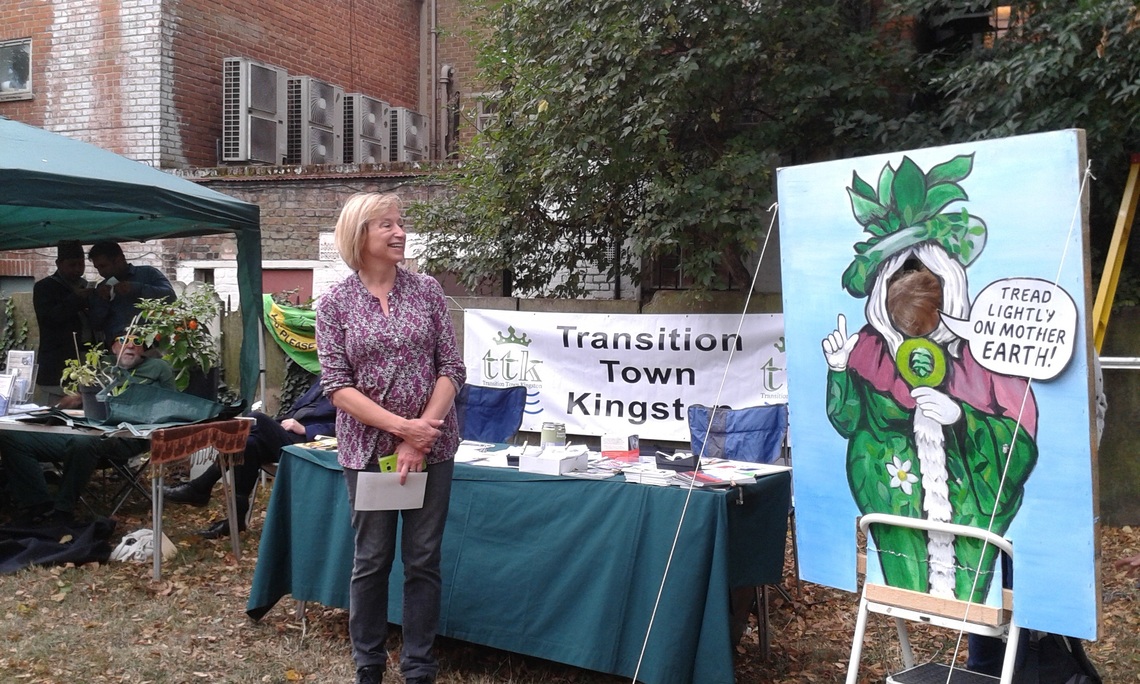 September 2017: Politics, Environment, People presentation on Transition - Making our towns worth living in" by TTK's Marilyn to a small but friendly audience in Richmond.
August 2017, Marilyn from TTK met with John Lewis Kingston Community Liaison partner, Lene, for a mutual update.
September 2016, Green Zone of Kingston Carnival: TTK were there, along with many of the other green groups in the area.
August 2015, TTK at Kingston Food Festival talked to passers-by about TTK project Abundance, Love Food Hate Waste, and TTK veg box scheme From the Ground Up. We shared a table with Kingston Beekeepers who, as always, proved a big draw. Hilary showed off some Abundance kit, Fiona offered samples and recipes from FGU, and Marilyn gave people tips about saving money by throwing away less food – the most needed tips seemed to be that you can probably freeze many more foods than you thought you could, and that bargains aren't bargains if you can't eat them before they start to perish - more about use by dates here.
August 2015, TTK at Kingston's Green Debate - but where was everyone else? It seemed that we had some way to go before climate change was a subject of general interest in Kingston, and TTK was the only local community group to take a space. The debate included some fascinating presentations on: coral reefs as indicators of climate change and providers of eco-system services; how to change attitudes and behaviour locally and internationally (hard but not impossible as examples such as smoking and drink-driving indicated),; the difficulties of international, inter-cultural discussions; and on spiritual and ethical motivations (presented by the Bishop of Kingston). Although the handful of people present couldn't solve these global problems even in three days of thoughtful exchanges, it seemed that combinations of carrot and stick, personal and political, science, education and the arts, were the best - perhaps the only - ways forward.
May 2015, TTK's Urban Regeneration walk along the waterway by the Olympic Park explored an interesting mix of disused or converted ex-industrial buildings, post-Olympic facilities, and expensive new apartments taking advantage of its closeness to the City.
May 2013, around the borough: TTK was at various events in the borough in May, including May Merrie in Memorial Gardens, central Kingston on Monday 6th May, and Surbiton Food Festival in the week of 12-19 May.
October 2012, Think in Kingston– on Money: TTK and many of our friends, supporters and affiliates organised events and contributed ideas during Kingston's annual festival of ideas. The Transition movement, as well as its interest in building resilience against climate change and peak oil, is interested in re-localising the economy – and this was our opportunity to explore these ideas with other members of the community in discussions about alternatives to conventional banks and money, the People's Budget, ethical investing, and what we can do as individuals and as a community about the state of the national and global economy.
October 2012 "Living Landscapes – making space for nature in the urban environment" Kingston Working Men's Club Do we really want wild nature in Kingston? Are we prepared to make space for it, live with its untidiness, pay for it? What's in it for us? The Transition Town Kingston event "Living Landscapes…" explored these questions – in displays about wild flowers, bees and other pollinators from River of Flowers, local beekeepers, Kingston Environment Centre and the Environment Trust, and in a panel discussion chaired by local ecologist and TTK supporter John Fellowes. Expert panellists, Kathryn Lwin of River of Flowers, Marie-Claire Edwards (Green Spaces Service Manager, Kingston Council) and Jacqui Weir of the Royal Society for the Protection of Birds found much common ground in their concerns about declining populations of bees and other pollinators and once-common birds like the house sparrow, and shared practical and imaginative ideas about how to create, restore and maintain natural habitats in Kingston. See "Living Landscapes" for more about the project and ideas on suburban biodiversity.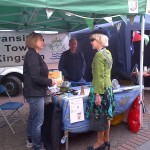 June 2012, TTK with the Voluntary Sector in the Market: TTK were invited to have a stall at this event, and Peter and Hilary (pictured left) talked to the Mayor of Kingston about solar panels.
May 2012, TTK out and about in Paint the Town Green, All over the borough of Kingston: we were even more active and visible than usual with TTK volunteers on stalls at Kingston's May Merrie, the Seething Sports Day and the Alpha Road Fun Day, selling teas, coffees and cakes at All Saints Church, and Stitch in Time sewing workshops in Tolworth Library and at a lunch-hour session on making patches with a Refugee Action Kingston group. We also held a public showing of "In Transition 2.0 – a story of resilience and hope in extraordinary times", the new film from Transition Network, capturing inspiring stories of Transition initiatives around the world, responding to uncertain times with creativity, solutions and 'engaged optimism'.
October 2011 Think in Kingston– on Happiness: TTK showed the new film The Economics of Happiness and then led a discussion, in small groups so that everyone could participate as they wished. The Economics of Happiness described a world moving simultaneously in two opposing directions: on the one hand, an unholy alliance of governments and big business continues to promote globalization and the consolidation of corporate power; at the same time, people all over the world are resisting those policies, demanding re-regulation of trade and finance — and, far from the old institutions of power, they're starting to forge a very different future. Communities are coming together to re-build more human scale, ecological economies based on a new paradigm – an economics of localization.
February 2011, Seething Festival: TTK members joined in the Festival's fun procession and handed out seed potatoes for the King's Soup later in the year.
April 2010, Transition Town Kingston Big Launch Party 17th April 2010, Kingston Working Men's Club, 25 Old London Rd, KT2 6ND, 5pm-late A evening to celebrate what we'd done so far and plan for the future. TTK comes of age! See report and pics.
March 2010, ArtGym , Kingston Town Centre Four inter-generational creative workshops to envisage a greener Kingston – see report.