How we started

The Transition Movement started in Totnes, Devon in 2005 when Rob Hopkins and Naresh Giangrande initiated a series of talks and film screenings to raise awareness about the issue of peak oil. This rapidly began to build momentum for some kind of a community response, and thus Totnes was launched as the first Transition Town in September 2006. The concept quickly spread across the UK, with hundreds of towns, villages and cities declaring their desire to relocalise services and transition to a lower energy future. It is now an international movement and is supported by a Transition Network.
By April 2008 a number of Kingston residents had been mulling over the idea of starting a Transition Initiative. Through the mulling contact list on the Transition Network website a dialogue was started and the word spread amongst existing community groups. It was decided that a get-together was in order, and those interested in learning more were invited to a public meeting in a local pub. So many people turned up that we had to move to a Kingston University room to continue discussions!
Since then TTK has held numerous film screenings, discussions and debates to raise local awareness of energy issues and climate change. A steering group was created, which evolved into a management team, themed groups formed to address specific issues, and practical projects started to implement our vision of a healthier, happier, re-localised Kingston. Founder members included Martin Birley, Shaun Chamberlin, John Fellowes, Hilary Gander, Toni Izard, Majeed Neky, Elise Toogood…
TTK history 2008 -10
Below is a timeline of the first few years of TTK history up to 2010.
See more pictures from TTK's early years here and a very early flier here.
| | | |
| --- | --- | --- |
| Date | Title | Details |
| 17.04.10 | TTK's Big Launch Party | After two years of awareness raising, TTK comes of age! |
| 20-21.03.10 | TTK hold largest visioning exercise in the UK | TTK in partnership with Artgym run 4 creative intergenerational learning workshops to share stories and envisage a better future. Read the report here. |
| 13.03.10 | trial of TTK's veg box scheme | TTK Food Group trials their 'From the Ground Up' organic veg box scheme with 8 families |
| 26.02.10 | TTK win best green group in South London | TTK win 'Green Group of the Year' award at the Regional Green Guardian Awards. Steering group member Shaun Chamberlain is also 'Highly Commended' in the Green Champion Category. |
| 25.01.10 | TTK win Kingston Green Group Award | TTK win best Green Group award in the local Green Guardian Awards (photo below right). |
| 26.11.09 | The Power of Alliances | The Power of Alliances event brings together local community groups to see how we can work together to achieve our aims and objectives. |
| 16.11.09 | 1st Business Action Group event | The first BAG public event "Greening Business" takes place, with a panel of local businesses addressing the topic of green consumerisman - read the report here. |
| 01.09.09 | TTK Food Group Launched | The Food Group is established, conducting a survey of members priorities relating to food. |
| 05-07.06.09 | TTK invited to Oldenburg, Germany | TTK members, Elise Toogood and John Fellowes, are invited to Oldenburg, Germany to share ideas and discuss the responsibilities and scope for action local communities have in sustainable development. |
| 30.05.2009 | Visioning the Future | TTK's biggest event yet, with over 250 local residents getting involved in creating positive visions of Kingston's future. See all the comments they made, and a pictorial representation of what they said they wanted. |
| 05.03.09 | Transition Timeline Published | TTK Steering Group member, Shaun Chamberlain's new book The Transition Timeline is published and available for sale in all major bookstores. |
| 16.02.2009 | TTK meets with our local MPs | TTK members are invited to Westminster to meet local MPs Ed Davey and Susan Kramer. |
| 09.12.2008 | Council approve Sustainable Communities Act | Following our petition Kingston Council's Executive approve opting in to the Sustainable Communities Act 2007. |
| 04.12.2008 | David Fleming celebration | Dr. David Fleming gives a fascinating talk on the importance of celebration to mark six months since our steering group formed. |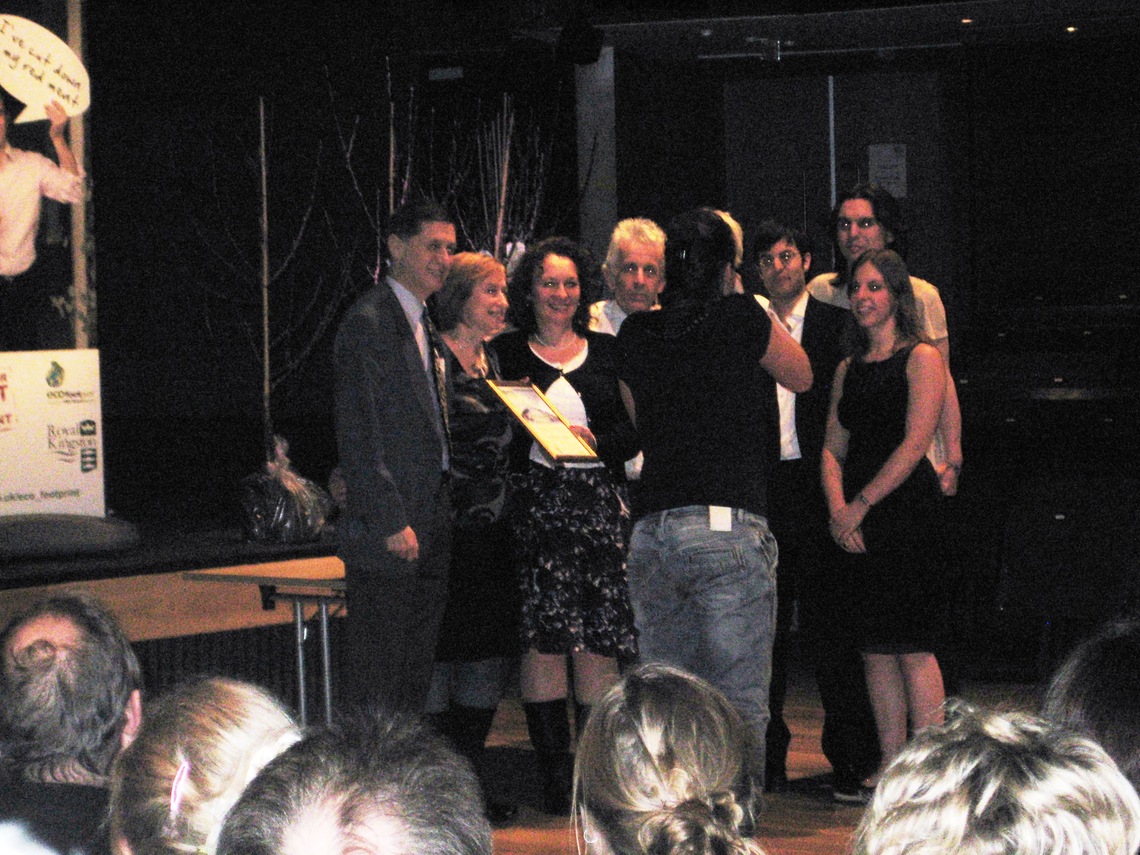 2010 – present
TTK events between 2010 and 2018 can be seen here as well as in past newsletters; recent events, starting in 2019, can be seen by scrolling back on our Events page.
Our AGM minutes also give good overviews of each year's activities and can be read in this AGM folder
"Ten years of TTK", the slide show on view at our 2018 AGM and celebration can be viewed as a pdf here.
Management team and Green Drinks meet-ups
Anyone interested is welcome to come to our monthly management team meetings. See Events to check time and place, and come along to pitch an idea, to offer help, to meet us. Our meeting is followed by Kingston Green Drinks, a free social event hosted by TTK - look for the Kingston Green Drinks sign on our table. We welcome everyone to come along to have a drink, make new connections, and share news, insights, activities, events and strategies with like-minded people. See Events for details and updates.
You can find out more about the current management team and read notes from team meetings from 2015 onwards here.