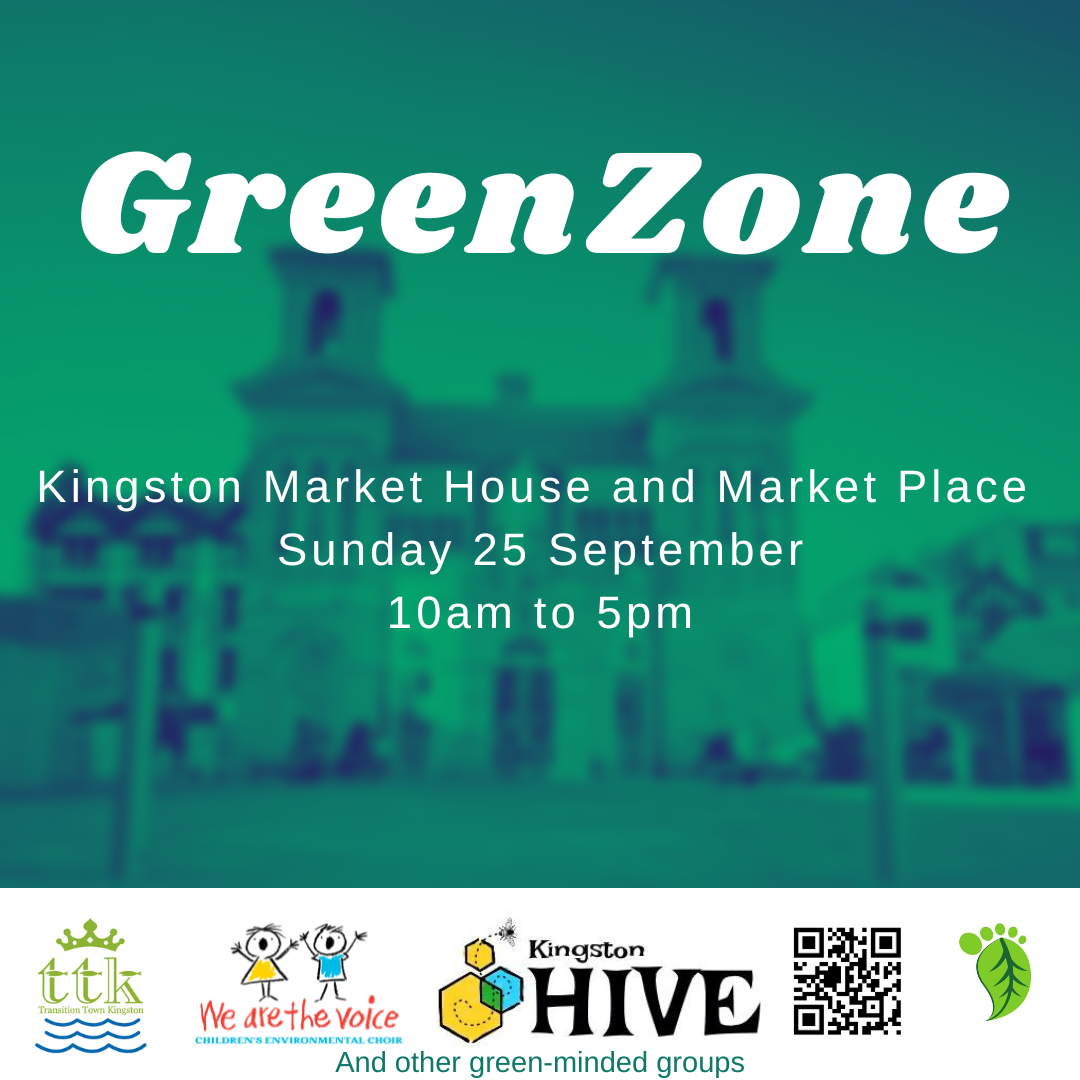 pKINGSTON GREEN ZONE IS COMING to Kingston Market Place and Market House all day on Sunday 25th September, 2022 - find out more here.
Kingston Market Place will be transformed into Kingston GreenZone on Sunday 25th September, with eco-stalls and entertainment in the Market Place and a wide-ranging programme of talks, discussions and workshops on green topics in the Market House. The event will start at 10.00am and end at 5.00ish, with a welcome from the Mayor of Kingston at midday.
Everyone is invited to come along to meet local green groups and the Council's new Climate Action team, to enjoy music and stories on the Market Place stage, and to participate, learn something new and find interesting things to do in the discussions in the Market House on themes that will cover recycling, energy efficiency in the home, rewilding, climate campaigning, eco-anxiety, and much more. Highlights will include a talk by former Extinction Rebellion spokesperson Rupert Read, "Join the 'moderate flank': Beginning from climate-truth, the journey to the massive change we need", and a performance by We Are The Voice, the well-known children's environmental choir who sang at COP26 in Glasgow last year.
Environmentally concerned local people have enjoyed previous GreenZone get-togethers and finding out what is happening in green Kingston. The green community groups organising this year's event anticipate that, in this central Kingston space and with climate and natural disasters so much in the news, this will be the biggest and best GreenZone yet. They hope that even more Kingston residents and visitors than usual will discover this mini-festival and enjoy a day full of interest and fun.
Full information about the day's programme as it is confirmed can be seen at https://e-voice.org.uk/ttkingston/greenzone-2022/
About GreenZone: GreenZone began on the lawns of All Saints Kingston as part of Kingston Carnival in September 2018, co-organised by Kingston Environment Centre and other member-groups of Kingston Environment Forum. After a break during lockdown in 2020, GreenZone reappeared on the lawn next to Kingston Museum in October 2021.
This year's GreenZone is timed to be part of Kingston's Sustainable September (https://www.kingston.gov.uk/Sustainable-September) and The Climate Coalition's Great Big Green Week (https://greatbiggreenweek.com/). It is being organised once again by local green groups, led this year by Transition Town Kingston (www.ttkingston.org), the Kingston Hive (www.kingstonhive.org.uk/ and We Are The Voice (www.wearethevoice.org.uk/), who are grateful to Kingston Council and KingstonFirst for their support.keep the date free.