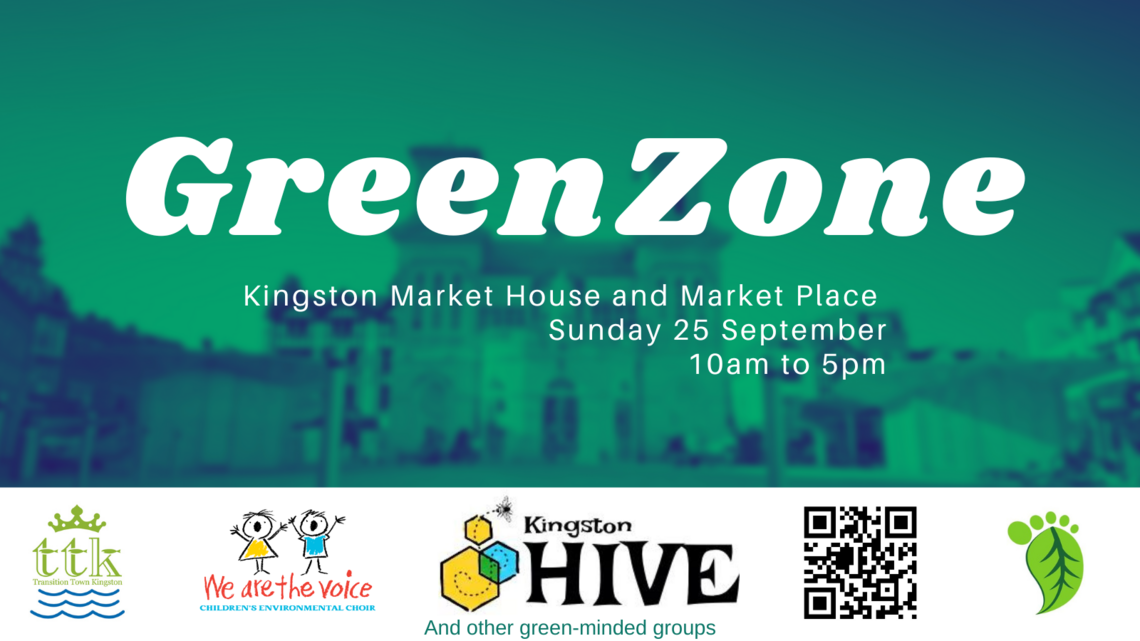 GreenZone is coming to the town centre on Sunday 25th September, during The Climate Coalition's Great Big Green Week and Kingston Council's Sustainable September - so please keep the date free and find something you'd like to do or learn more about below.

If you think you might want to donate to a group or buy something at GreenZone, please bring some cash as not everyone has a card reader!
In the Market Place, eco-stalls:
Come along to meet and chat with: Transition Town Kingston and their Abundance harvesting and juicing project; The Kingston Hive, developing a Climate Emergency Centre in central Kingston; Kingston Environment Centre and their Stitch and Chat group; Hogsmill community garden, a wild-life-friendly garden; Kingston Extinction Rebellion; Sunray Recycle & other recycling campaigns - the Co-op on soft plastic recycling, Vision Express recycling spectacles and Genuine Solutions mobile mop up...; Save The World Club; Dave UK wind-up cardboard robot demo; Friends of the Earth; Global Justice Now, a global movement to create a more just and equal world; Thames Landscape Strategy who "conserve, promote and enhance one of the world's great river landscapes between Hampton and Kew"; Kingston Council's Climate Action team and Green Economic Recovery group.
Also in the Market Place, entertainment on the stage:
11.00 am, Welcome and introduction to the day from Kingston Hive & Transition Town Kingston
11.15 - 11.40 am, Gilan-El-Atar: singer/songwriter/ someone who just wants to express themselves. Come join Gilan on this journey between hope and the pit of despair.
11.50 - 12.00 pm, We Are the Voice children's environmental choir: winning hearts and minds, performing an exciting mix of dynamic and inspirational original music, the children sing for our changing climate, trees, oceas and children's futures. In 2021 the choir were a headline act at COP26 in Glasgow.
12.00 - 12.05 pm, Welcome from the Mayor of Kingston
12.05 - 12.35 pm, We Are the Voice continue
12.45 - 1.10 pm, Elaine Hallam: solo singer, actress stage and TV, jazz singer and vocalist, "Jazzish" Facebook, vocal coach .
1.20 - 2.00 pm, Lunar Jam: South West London based alternative rock trio that channels diverse life experiences into original songs with catchy melodies and honest lyrics, characterised by waves of dynamics that flow between soft and introspective to sudden heavy soundscapes
2.10 - 2.50 pm, The Euphorix (formerly Euphoric Recall): songs that'll force you to dance full of meaning and melody. Dreaming a Better Dream as Space Pagans!
3.0 - 3.40 pm, ElTel: London's ELTEL combine knock-you-dead originals and left-field covers, in order to beguile, entertain and hypnotise you. Listen out for hauntingly beautiful remakes of those songs you'd forgotten you'd forgotten. Singing along is optional but encouraged
3.50 - 4.15 pm, Belinda Storyteller: Belinda McKenna-Bicknell, also know as Belinda Storyteller, has a wide range of traditional, folk, historical, personal, modern, steam-punk, original and commissioned stories to her repertoire. She has been performing since 2009 to a wide range of audiences and locations including: residential homes for profoundly disabled adults, weddings, busking and bedsides. Her performances are described as quirky, passionate, intelligent and thought provoking.
4.25 - 4.50 pm, Ra, solo act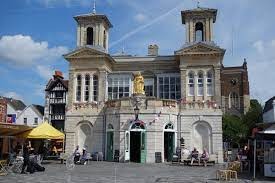 Upstairs in the Market House, a programme of talks and workshops on green themes*:
10.00 - 11.30 am, Side Room, Nature arts and crafts class for children (4 - 8 years old): an arts and crafts session for children using natural materials. No need for glitter or Sellotape, Kate from Natural Crafters will demonstrate how arts & crafts sessions for kids can be sustainable, fun and plastic-free! Please note that a parent or guardian must stay with their child for the duration of the session. Booking essential - save a space on Eventbrite.
10.30 – 11.30 am, Main Hall, Elliot Newton on Seven ways to rewild your green space. Whether your green space is a back garden, the local park, a balcony or green roof, a community garden, a grass verge... Kingston Council's Biodiversity Officer Elliot Newton will highlight seven great ways to embrace wildlife-friendly gardening and create havens for wildlife. He will also introduce you to some of the fantastic species, from hedgehogs to stag beetles, that you might find in local green spaces.
12.10 - 1.00 pm, Side Room, Kingston's Queen of Recycling Q & A: how to recycle and where - sign up to recycle more in your area and wear the crown...
12.10 – 1.00, Main Hall, "It's not too late to save our world. Want to know how?" with Valerie Davies (who kindly stepped in at the last minute!): We're in climate and ecological breakdown. Signing petitions and lobbying MPs hasn't helped. So what will? An Extinction Rebellion speaker explains why just 3.5% of us working together in 2022 could turn things around. All over the UK, people are getting organised - and there's a role for you too.
1.10 - 2.00 pm, Main Hall, The case for climate justice with James O'Nions of Global Justice Now. The world's ten richest men own more wealth than the poorest 40% of humanity. And just 100 companies are responsible for 71% of global greenhouse gas emissions. This discussion will look at how those facts are related, and what we need to do to change a global economy which is driving us towards climate breakdown.
1.10 - 2.00 pm, Side Room, Climate Emergency Centres: We are OK with Ruth Allen, co-creator of the CEC network following her stint as XR South East Regional Coordinator, talks about the importance of 'how' as well as 'what' as we face multiple systemic crises facing this world. Real change comes from the simplest, but maybe the hardest, task- remembering that we are OK, all of us.
2.05 – 2.55, Side Room, Climate Grief Circle with Daniela Voit: If you're feeling scared, overwhelmed or sad, your feelings are welcome here. The climate and ecological emergency can bring up lots of challenging emotions and sharing them can be very helpful. Come and join a circle of like-minded people.
2.10 - 2.50 pm, Main Hall, Ian Chown on his Zero Carbon House - and making an old suburban house Zero Carbon in use, without busting a gut... Ian lives in an ordinary suburban Edwardian house in Orpington, and has converted it to low energy and zero use of fossil fuels, using reasonable measures. We learn about how his experience can apply to houses of various types and ages, with special emphasis on Air-Source Heat Pumps.
3.00 - 4.00 pm, Main Hall, Rupert Read: "Join the 'moderate flank': Beginning from climate-truth, the journey to the massive change we need" The first demand of Extinction Rebellion's programme was to tell the truth about the climate crisis. For all the impressive successes of that movement, it's time that we collectively face the truth about the limitations of what our current model of activism is capable of delivering. Rupert Read argues that radical change on climate policy requires the birth of a new mass moderate flank to the climate movement. In this talk, Rupert will share his experiences of working within institutions and activist groups and what he has learned in the process. Mass action on climate is coming, grounded in radical honesty, and taking various 'moderate', accessible, inclusive forms.
Rupert Read Is an associate professor of philosophy at the University of East Anglia, and an expert reviewer for the Sixth Assessment Report of the IPCC. He is a former spokesperson for Extinction Rebellion, and a former Green Party councillor, spokesperson, MEP-candidate and MP-candidate. He will have books with him to sell and sign (so bring some cash!). Please book your place here.
And ending the day with things you can do - to your home or for your personal resilience:
4.15 - 5.00/5.15**, Main Hall, Heat pumps and other scary (green) things... Have you heard that a heat pump sounds like a plane taking off? Or that insulating your house will make it too hot in summer? Or that sealing all the drafts will make your home damp and mouldy? Transition Town Kingston's Energy group hope to allay some common fears and answer your questions about making homes more energy-efficient. See www.ttkingston.org for more about TTK.
4.15 - 5.00/5.15**, Side Room, Inner Transition with Lucy Harrison: "People who are drawn to Transition care deeply about the world around them, their children, their communities and about the future of life on this planet, but all too often give more of their time, energy and skills than is sustainable. When engaged with Transition, what is the best way to stay balanced in what we give and receive, protect space and time for rest, and find sources of nourishment that restore our reserves? Alongside social and community resilience, the more personally resilient we are, the more we are able to face, and respond to, the challenges of our times…" (From Transition Network on personal resilience)

* We know that some visitors will want to attend all the talks and workshops but will have to choose between parallel ones or between talks and the outdoor entertainments - but we hope there will be other opportunities to hear from some of the local speakers over the next year or so. Please keep an eye on Events on this website and Kingston Environment News to make sure you don't miss these second chances.
** If there are many participants and questions this session may run until 5.15, though if you need to leave promptly at 5.00 the facilitators will understand!