Kingston Green Drinks
Tuesday 26 October 2021
19:00 to 21:00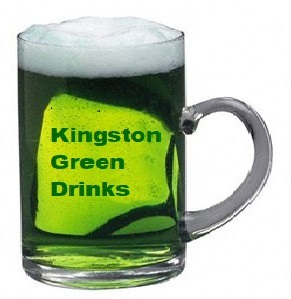 On the last Tuesday of every month (apart from public holidays) from 7.00pm to 9.00ish, returning in October 2021 after a Covid break. Preceded by the TTK management team meeting from 6.00pm.
Venue: Currently the Spring Grove, but please check https://www.earth.org.uk/wants-and-offers.html#Events
Meeting since Tuesday 26th June 2018, Kingston Green Drinks is a free social event for anyone interested or working locally in environmental issues, hosted by Transition Town Kingston. All you have to do is buy a drink and look for the Kingston Green Drinks sign on our table. We welcome everyone to come along to make new connections and share news, insights, activities, events, strategies and conversations with like-minded people.
Location
The Spring Grove, 13 Bloomfield Road
Kingston upon Thames
London
KT1 2SF
(view map)
Cost
Free - just buy a drink